Last week I added photos of some of interior design projects on a sidebar. I realized that I never talked about my last school project, Google Office Building. Before I started this project, I thought it would be pretty boring. Office buildings don't exactly scream exciting. Much to my surprise, this project was my favorite one.

What made this project exciting was that this was a Google office building. Have you seen any photos are their spaces?!! It's amazing! Google offices are colorful and fun.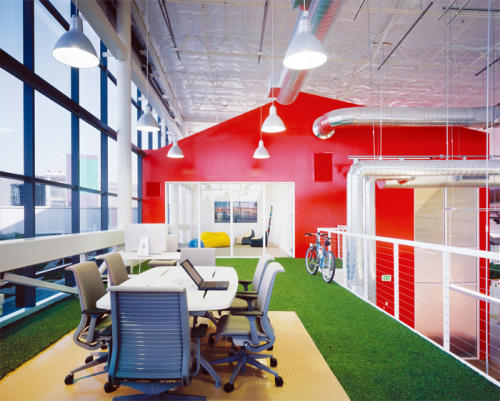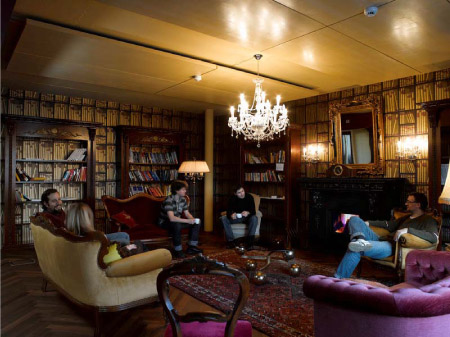 Other than their colorful spaces, the Google Culture is incredibly interesting. I'm sure that if many other company's followed Google's example, employee productivity would be much higher. Here's a description from their Corporate Information website:

Local flavor, from a mural in Buenos Aires to ski gondolas in Zurich, expressing each office's unique location and personality.
Bicycles for efficient travel between meetings, dogs, lava lamps, and massage chairs.
Googlers sharing cubes, yurts, and huddle rooms (few single offices!) with three or four team members.
Laptops in every employee's hand (or bike basket), for mobile coding and note-taking.
Foozball, pool tables, volleyball courts, assorted video games, pianos, ping pong tables, lap pools, gyms that include yoga and dance classes.
Grassroots employee organizations of all kinds, such as meditation classes, film clubs, wine tasting groups, and salsa dance clubs.
Healthy lunches and dinners for all staff at a wide variety of cafés, and outdoor seating for sunshine brainstorming.
Snack rooms packed with various snacks and drinks to keep Googlers going throughout the day.
The Google Office that we designed has six floors. This was a group project and each person worked on one floor. I designed the sixth floor. Our team decided that each floor would have a different accent color, pulling inspiration from the Google logo. Unfortunately, the Google logo doesn't have six colors, so we had to add a few. We pulled colors out of a hat, and my accent color was purple. Here are some highlights from the cubicle area.
Purple paint for the accent wall.
Sondra Alexander Ostrich wallcovering
.
Steelcase's new systems furniture c:scape
Task chairs for the cubicles.
Steelcase's Think Chair
.
The back of the chair has purple mesh fabric.
Here's a perspective drawing of the cubicle space. Notice the Google homepage on the computers.
I did the drawing in
SketchUp
, a Google software product.